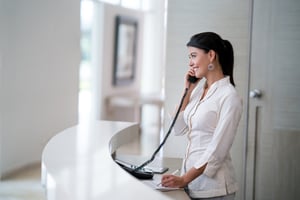 PhoneSuite Solutions, Inc. (the "Company"), a wholly owned subsidiary of STL Marketing Group, Inc. (OTC: STLK), has signed a Strategic Alliance & Distribution Agreement with Call Management Products, Inc. ("CMP"), a Colorado technology company. Under the terms of the agreement, the Company will promote, distribute and sell CMP's products in markets not currently served by CMP, namely the international market, as well as to the Small Business Market (SMB) in North America.
"This is a significant milestone for our Company. This business fits in perfectly with our strategy to enhance our ability to generate revenue, as we work on the longer-term prospects in our overall business plan. We are pleased to be working with people we know and respect in this field. This opportunity is substantial, taking into consideration the size of the worldwide market in communications equipment, as well as CMP's experience, technology and existing brand endorsement from major hotel chains. PhoneSuite has over 4,000 hotel installations in North America and we look to grow that installed base with our efforts in both the SMB and overseas markets. Developing these two significant markets will take time, however we expect to begin adding dealers to the network soonest, following with sales thereafter," said Jose P. Quiros, the President & Chief Executive Officer of PhoneSuite Solutions, Inc./STL Marketing Group, Inc.
"The international distribution experience represented within STL Marketing Group, Inc. in our own hospitality telephone system market is unsurpassed. They are a natural partner for us moving forward with expansion to international markets with the Voiceware® product line. Add to that their vision for expanding Voiceware's powerful business voice side into the U.S. SMB market, and you get a fantastic two-for-one partner. We are extremely excited about the business relationship PhoneSuite and STL Marketing Group, Inc. begin to forge with this agreement," said Frank Melville, President of PhoneSuite.
About PhoneSuite Solutions, Inc./STL Marketing Group, Inc.
PhoneSuite Solutions, Inc., a wholly owned subsidiary of STL Marketing Group, Inc., is a distribution company developing the international market and the Small Business Market (SMB) in North America for CMP's PhoneSuite brands.
About Call Management Products, Inc.
For over 20 years, Call Management Products, Inc., under its brand name PhoneSuite, has leveraged its expertise in communication technology to provide high-quality, low-power consuming products. PhoneSuite is dedicated to the design and manufacture of products and is proud to have installed 4,000 systems in properties ranging from B&B's to 475-room franchise hotels throughout the world. Our products, combined with our nationwide dealer support and engineering expertise, create reliable communication solutions that meet or exceed all hotel requirements. PhoneSuite is a Preferred Vendor for several major hotel chains, an Allied Member of the American Hotel & Lodging Association (AH&LA), a Founding Sponsor of the Asian American Hotel Owners Association (AAHOA), a member of Hotel Technology Next Generation (HTNG), and was recognized by the Denver Business Journal as one of the Top 25 Fastest-Growing Small Private Companies.
This news release contains forward-looking statements as defined by the Private Securities Litigation Reform Act of 1995. Forward-looking statements include statements concerning plan, objectives, goals, strategies, future events or performance, and underlying assumptions and other statements that are other than statements of historical facts. These statements are subject to uncertainties and risks including, but not limited to, product and service demand and acceptance, changes in technology, economic conditions, the impact of competition and pricing, government regulation, and other risks described in statements filed from time to time with the Securities and Exchange Commission. All such forward-looking statements whether written or oral, and whether made by or on behalf of the Company, are expressly qualified by the cautionary statements that may accompany the forward-looking statements. In addition, the Company disclaims any obligation to update any forward-looking statements to reflect events or circumstances after the date hereof.